Property Details
Apartment to rent La Cala de Mijas Add to Favourites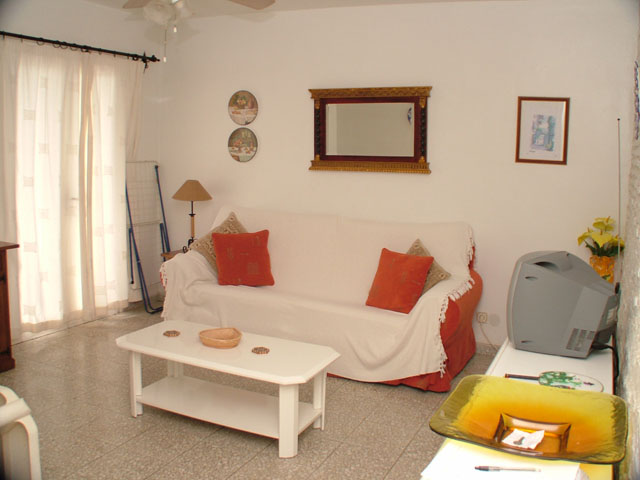 Description
Nice 1 bedroom apartment on 2nd floor please note no lift to the apartment suitable for couples or couple with 1 child.
No lift 3rd floor
aircon
Property Photos
More Property Details
General Details
Top floor apartment. AIRCON in bedroom
this 1 bedroom apartment is suitable for couples or 3 people.
Please note that it has stairs to the apartment.
Bedrooms Details
Shower no bath
Living Area Details
living/ dining area
Kitchen Details
Kitchen has electric oven and gas hob, microwave, toaster and electric kettle.
Entertainment Available
sky free view only TV and Radio.
Outside Details
terrace WITH TABLE AND CHAIRS.
Other Details
please email for availability we will get back back to you within 12 to 24 hours or phone 0034 607706482
Rates
| | | | |
| --- | --- | --- | --- |
| Date From | Date To | Price (euros) | Price (pounds) |
| 01/01/2019 | 31/03/2019 | 236 € | £ 0 |
| 01/04/2019 | 31/05/2019 | 265 € | £ 0 |
| 01/06/2019 | 30/06/2019 | 335 € | £ 0 |
| 01/07/2019 | 31/08/2019 | 370 € | £ 0 |
| 01/09/2019 | 30/09/2019 | 335 € | £ 0 |
| 01/10/2019 | 31/12/2019 | 265 € | £ 0 |
Availability Calendar
2020
S
M
T
W
T
F
S
S
M
T
W
T
F
S
S
M
T
W
T
F
S
S
M
T
W
T
F
S
S
M
T
W
T
F
S
Aug

1

2

3

4

5

6

7

8

9

10

11

12

13

14

15

16

17

18

19

20

21

22

23

24

25

26

27

28

29

30

31

Sep

1

2

3

4

5

6

7

8

9

10

11

12

13

14

15

16

17

18

19

20

21

22

23

24

25

26

27

28

29

30

Oct

1

2

3

4

5

6

7

8

9

10

11

12

13

14

15

16

17

18

19

20

21

22

23

24

25

26

27

28

29

30

31

Nov

1

2

3

4

5

6

7

8

9

10

11

12

13

14

15

16

17

18

19

20

21

22

23

24

25

26

27

28

29

30

Dec

1

2

3

4

5

6

7

8

9

10

11

12

13

14

15

16

17

18

19

20

21

22

23

24

25

26

27

28

29

30

31
2021
S
M
T
W
T
F
S
S
M
T
W
T
F
S
S
M
T
W
T
F
S
S
M
T
W
T
F
S
S
M
T
W
T
F
S
Jan

1

2

3

4

5

6

7

8

9

10

11

12

13

14

15

16

17

18

19

20

21

22

23

24

25

26

27

28

29

30

31

Feb

1

2

3

4

5

6

7

8

9

10

11

12

13

14

15

16

17

18

19

20

21

22

23

24

25

26

27

28

Mar

1

2

3

4

5

6

7

8

9

10

11

12

13

14

15

16

17

18

19

20

21

22

23

24

25

26

27

28

29

30

31

Apr

1

2

3

4

5

6

7

8

9

10

11

12

13

14

15

16

17

18

19

20

21

22

23

24

25

26

27

28

29

30

May

1

2

3

4

5

6

7

8

9

10

11

12

13

14

15

16

17

18

19

20

21

22

23

24

25

26

27

28

29

30

31

Jun

1

2

3

4

5

6

7

8

9

10

11

12

13

14

15

16

17

18

19

20

21

22

23

24

25

26

27

28

29

30

Jul

1

2

3

4

5

6

7

8

9

10

11

12

13

14

15

16

17

18

19

20

21

22

23

24

25

26

27

28

29

30

31
Key: Red = booked, Green = available
Make an Enquiry: