Property Details
Apartment to rent La Cala de Mijas Add to Favourites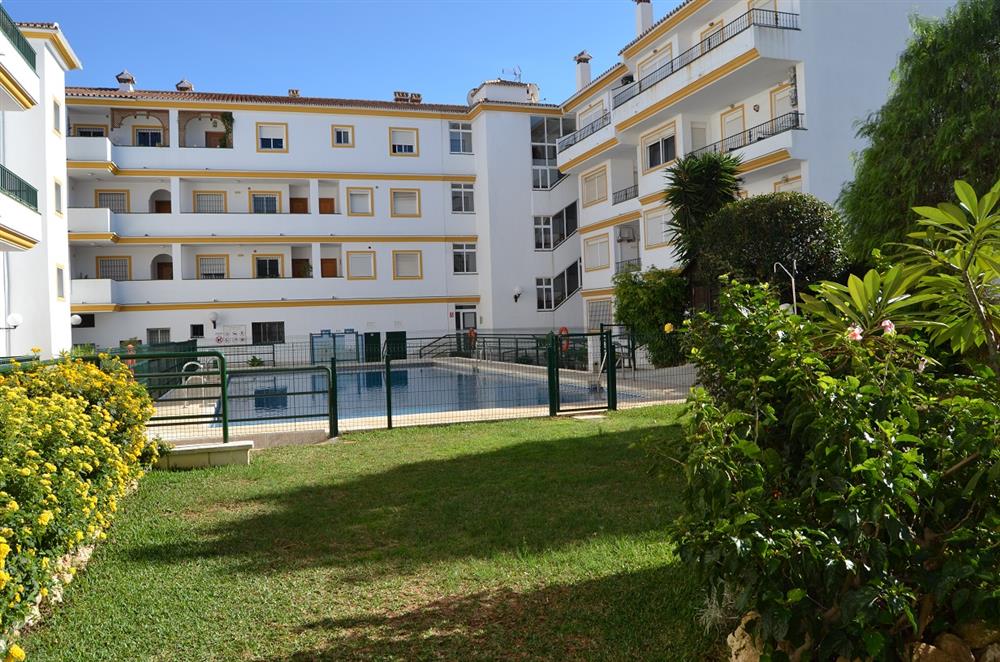 Description
lovely two bedroom apartment, with a nice community swimming pool please note opening times for the pool 11am to 3pm then 5pm to 10pm. You are only just a 2 minutes walk from the beach. Which is open all day and night!
Property Photos
More Property Details
Bedrooms Details
2 bedroom, one double bed and two singles.
Bathrooms Details
1 bathroom.
Living Area Details
open planned living room.
Dining Room Details
living/dinning area.
Kitchen Details
good size kitchen.
Entertainment Available
television.
Outside Details
good size balcony.
Other Details
linen is provided and on 2wk stays the maid will call to change the linen and clean the bathroom this service is included in the rental price.
Please note you will need to bring beach/pool towels thank you.
Rates
| | | | |
| --- | --- | --- | --- |
| Date From | Date To | Price (euros) | Price (pounds) |
| 01/09/2018 | 31/10/2018 | 535 € | £ 0 |
| 01/11/2018 | 31/12/2018 | 340 € | £ 0 |
| 01/01/2019 | 31/03/2019 | 340 € | £ 0 |
| 01/04/2019 | 31/05/2019 | 600 € | £ 0 |
| 01/06/2019 | 30/06/2019 | 660 € | £ 0 |
| 01/07/2019 | 31/08/2019 | 750 € | £ 0 |
| 01/09/2019 | 31/10/2019 | 660 € | £ 0 |
Availability Calendar
2020
S
M
T
W
T
F
S
S
M
T
W
T
F
S
S
M
T
W
T
F
S
S
M
T
W
T
F
S
S
M
T
W
T
F
S
Jul

1

2

3

4

5

6

7

8

9

10

11

12

13

14

15

16

17

18

19

20

21

22

23

24

25

26

27

28

29

30

31

Aug

1

2

3

4

5

6

7

8

9

10

11

12

13

14

15

16

17

18

19

20

21

22

23

24

25

26

27

28

29

30

31

Sep

1

2

3

4

5

6

7

8

9

10

11

12

13

14

15

16

17

18

19

20

21

22

23

24

25

26

27

28

29

30

Oct

1

2

3

4

5

6

7

8

9

10

11

12

13

14

15

16

17

18

19

20

21

22

23

24

25

26

27

28

29

30

31

Nov

1

2

3

4

5

6

7

8

9

10

11

12

13

14

15

16

17

18

19

20

21

22

23

24

25

26

27

28

29

30

Dec

1

2

3

4

5

6

7

8

9

10

11

12

13

14

15

16

17

18

19

20

21

22

23

24

25

26

27

28

29

30

31
2021
S
M
T
W
T
F
S
S
M
T
W
T
F
S
S
M
T
W
T
F
S
S
M
T
W
T
F
S
S
M
T
W
T
F
S
Jan

1

2

3

4

5

6

7

8

9

10

11

12

13

14

15

16

17

18

19

20

21

22

23

24

25

26

27

28

29

30

31

Feb

1

2

3

4

5

6

7

8

9

10

11

12

13

14

15

16

17

18

19

20

21

22

23

24

25

26

27

28

Mar

1

2

3

4

5

6

7

8

9

10

11

12

13

14

15

16

17

18

19

20

21

22

23

24

25

26

27

28

29

30

31

Apr

1

2

3

4

5

6

7

8

9

10

11

12

13

14

15

16

17

18

19

20

21

22

23

24

25

26

27

28

29

30

May

1

2

3

4

5

6

7

8

9

10

11

12

13

14

15

16

17

18

19

20

21

22

23

24

25

26

27

28

29

30

31

Jun

1

2

3

4

5

6

7

8

9

10

11

12

13

14

15

16

17

18

19

20

21

22

23

24

25

26

27

28

29

30
Key: Red = booked, Green = available
Make an Enquiry: