Property Details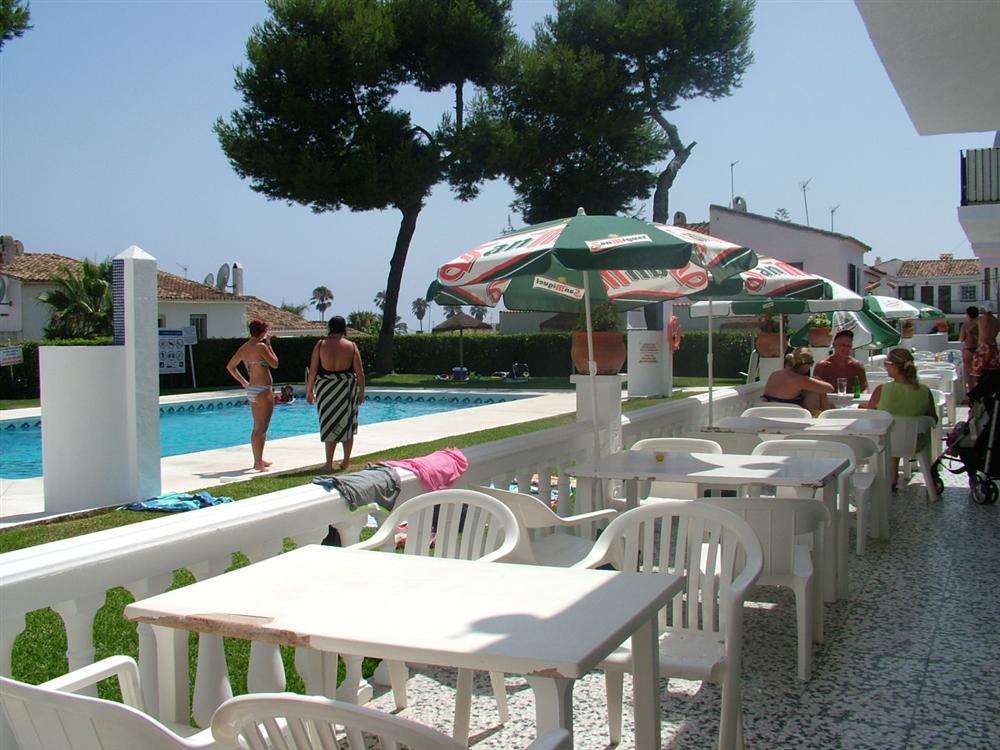 Description
This 3bedroom property is situated in the urbanisation of La Cortijera, it is a very quiet area, but just a short walk from the village of la Cala de Mijas. A very popular seaside resort. We also have local bars, a food shop and a restaurant on the complex.
This apartment has free WiFi and BBC & ITV t.v channels

You are only a bus ride away from Fungirola and Marbella.
Property Photos
More Property Details
General Details
newly renovated, modern standard apartment with 3 bedroom 2 bathrooms.
Bedrooms Details
2 double bed rooms and one bedroom with 2 single beds.
Bathrooms Details
2 bathrooms, one with bath and one is a shower room.
Living Area Details
open planed kitchen/living room area.
Dining Room Details
dinning table situated in the living room.
with table/chairs outside on the balcony.
Kitchen Details
brand new open planned kitchen.
Entertainment Available
bars and restaurants close by,
The beach is only 10 minutes away, the community has a salt water swimming pool, water park, zoo, shopping center. only a bus trip away.
FREE WIFI with BBC & ITV t.v.

Outside Details
balcony with table and chairs to sit out on.
Other Details
linen is provided and on 2wk stays the maid will call to change the linen and clean the bathroom this service is included in the rental price.
Please note you will need to bring beach/pool towels thank you.
Rates
| | | | |
| --- | --- | --- | --- |
| Date From | Date To | Price (euros) | Price (pounds) |
| 01/11/2020 | 01/01/2021 | 525 € | £ 0 |
| 01/01/2021 | 31/03/2021 | 630 € | £ 0 |
| 01/04/2021 | 31/05/2021 | 672 € | £ 0 |
| 01/06/2021 | 30/06/2021 | 806 € | £ 0 |
| 01/07/2021 | 31/08/2021 | 917 € | £ 0 |
| 01/09/2021 | 31/10/2021 | 806 € | £ 0 |
| 01/11/2021 | 01/01/2022 | 525 € | £ 0 |
Availability Calendar
2020
S
M
T
W
T
F
S
S
M
T
W
T
F
S
S
M
T
W
T
F
S
S
M
T
W
T
F
S
S
M
T
W
T
F
S
Jul

1

2

3

4

5

6

7

8

9

10

11

12

13

14

15

16

17

18

19

20

21

22

23

24

25

26

27

28

29

30

31

Aug

1

2

3

4

5

6

7

8

9

10

11

12

13

14

15

16

17

18

19

20

21

22

23

24

25

26

27

28

29

30

31

Sep

1

2

3

4

5

6

7

8

9

10

11

12

13

14

15

16

17

18

19

20

21

22

23

24

25

26

27

28

29

30

Oct

1

2

3

4

5

6

7

8

9

10

11

12

13

14

15

16

17

18

19

20

21

22

23

24

25

26

27

28

29

30

31

Nov

1

2

3

4

5

6

7

8

9

10

11

12

13

14

15

16

17

18

19

20

21

22

23

24

25

26

27

28

29

30

Dec

1

2

3

4

5

6

7

8

9

10

11

12

13

14

15

16

17

18

19

20

21

22

23

24

25

26

27

28

29

30

31
2021
S
M
T
W
T
F
S
S
M
T
W
T
F
S
S
M
T
W
T
F
S
S
M
T
W
T
F
S
S
M
T
W
T
F
S
Jan

1

2

3

4

5

6

7

8

9

10

11

12

13

14

15

16

17

18

19

20

21

22

23

24

25

26

27

28

29

30

31

Feb

1

2

3

4

5

6

7

8

9

10

11

12

13

14

15

16

17

18

19

20

21

22

23

24

25

26

27

28

Mar

1

2

3

4

5

6

7

8

9

10

11

12

13

14

15

16

17

18

19

20

21

22

23

24

25

26

27

28

29

30

31

Apr

1

2

3

4

5

6

7

8

9

10

11

12

13

14

15

16

17

18

19

20

21

22

23

24

25

26

27

28

29

30

May

1

2

3

4

5

6

7

8

9

10

11

12

13

14

15

16

17

18

19

20

21

22

23

24

25

26

27

28

29

30

31

Jun

1

2

3

4

5

6

7

8

9

10

11

12

13

14

15

16

17

18

19

20

21

22

23

24

25

26

27

28

29

30
Key: Red = booked, Green = available
Make an Enquiry: