Property Details
Apartment to rent La Cala de Mijas Add to Favourites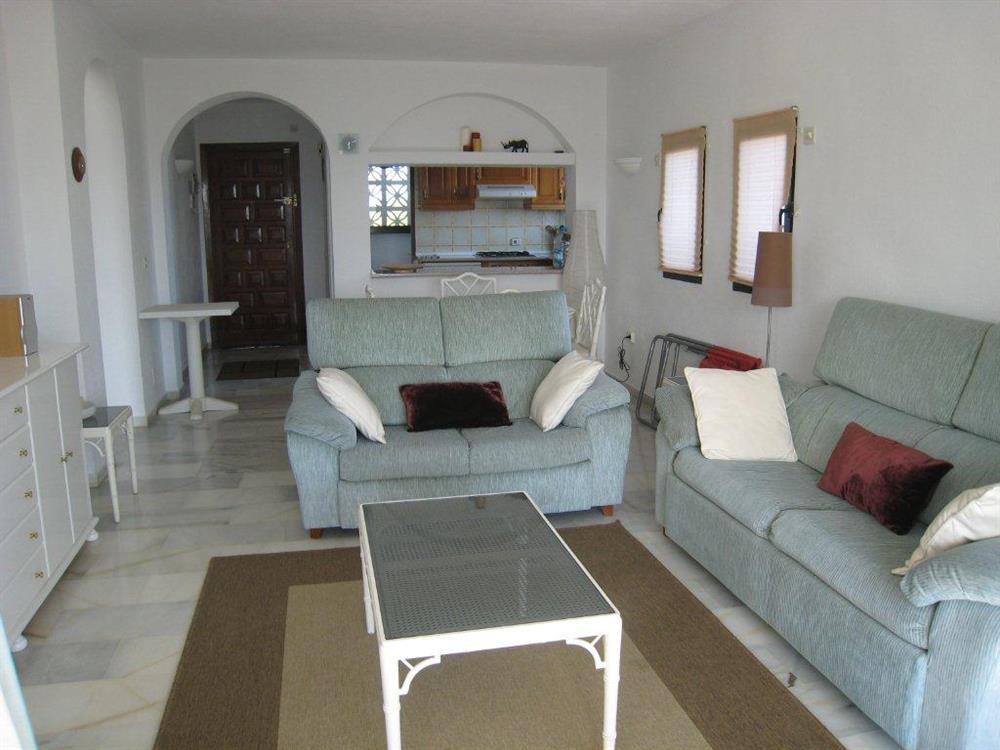 Description
Apartment 2C EL Juanar is in a block of 12 privately owned apartments set in a gated community with pool. this apartment has full air con
The apartment has a double bedroom and a twin bedroom both with fitted wardrobes. Bathroom with shower. Fully fitted kitchen with fridge, freezer, microwave, full size oven and gas hob, washing machine. BBC & ITV Television, Smart t.v DVD player, Radio/stereo.and cieling fans in all rooms, there are Bars, restaurants, shop close by and it's only a short stroll to the lovely La Cala beach and the village centre with all the amenities, Bars, Restaurants, Chemist, Hair Salons, Buses, Taxi's Supermarkets etc
Property Photos
More Property Details
General Details
The apartment has full Aircon one double bedroom and a twin bedroom both with fitted wardrobes in both rooms. Bathroom with shower. Fully fitted kitchen with fridge, freezer, microwave, full size oven and gas hob, washing machine. BBC & ITV with smart T.V DVD player, Radio/stereo.and cieling fans in all rooms.
Bedrooms Details
master bedroom double bed
2nd bedroom twin beds air con
ceiling fans
Bathrooms Details
shower only.
toilet and hand basin
Living Area Details
BBC & ITV also smart T.V
air con
radio DVD player
Dining Room Details
part of the lounge dinning table and 4 chairs
Kitchen Details
fully fitted kitchen fridge freezer, microwave, full oven and gas hob. washing machine
Entertainment Available
BBC & ITV T.V
DVD player Radio.
Outside Details
gardens and community pool area
Other Details
bedding and towels included
Please note no beach or pool towels
on a 2 week stay a mid holiday change of linen is included.
Rates
| | | | |
| --- | --- | --- | --- |
| Date From | Date To | Price (euros) | Price (pounds) |
| 01/01/2020 | 31/03/2020 | 483 € | £ 0 |
| 01/04/2020 | 31/05/2020 | 567 € | £ 0 |
| 01/06/2020 | 30/06/2020 | 567 € | £ 0 |
| 01/07/2020 | 31/08/2020 | 686 € | £ 0 |
| 01/09/2020 | 31/10/2020 | 567 € | £ 0 |
| 01/11/2020 | 30/11/2020 | 462 € | £ 0 |
| 01/12/2020 | 31/12/2020 | 462 € | £ 0 |
Availability Calendar
2020
S
M
T
W
T
F
S
S
M
T
W
T
F
S
S
M
T
W
T
F
S
S
M
T
W
T
F
S
S
M
T
W
T
F
S
Aug

1

2

3

4

5

6

7

8

9

10

11

12

13

14

15

16

17

18

19

20

21

22

23

24

25

26

27

28

29

30

31

Sep

1

2

3

4

5

6

7

8

9

10

11

12

13

14

15

16

17

18

19

20

21

22

23

24

25

26

27

28

29

30

Oct

1

2

3

4

5

6

7

8

9

10

11

12

13

14

15

16

17

18

19

20

21

22

23

24

25

26

27

28

29

30

31

Nov

1

2

3

4

5

6

7

8

9

10

11

12

13

14

15

16

17

18

19

20

21

22

23

24

25

26

27

28

29

30

Dec

1

2

3

4

5

6

7

8

9

10

11

12

13

14

15

16

17

18

19

20

21

22

23

24

25

26

27

28

29

30

31
2021
S
M
T
W
T
F
S
S
M
T
W
T
F
S
S
M
T
W
T
F
S
S
M
T
W
T
F
S
S
M
T
W
T
F
S
Jan

1

2

3

4

5

6

7

8

9

10

11

12

13

14

15

16

17

18

19

20

21

22

23

24

25

26

27

28

29

30

31

Feb

1

2

3

4

5

6

7

8

9

10

11

12

13

14

15

16

17

18

19

20

21

22

23

24

25

26

27

28

Mar

1

2

3

4

5

6

7

8

9

10

11

12

13

14

15

16

17

18

19

20

21

22

23

24

25

26

27

28

29

30

31

Apr

1

2

3

4

5

6

7

8

9

10

11

12

13

14

15

16

17

18

19

20

21

22

23

24

25

26

27

28

29

30

May

1

2

3

4

5

6

7

8

9

10

11

12

13

14

15

16

17

18

19

20

21

22

23

24

25

26

27

28

29

30

31

Jun

1

2

3

4

5

6

7

8

9

10

11

12

13

14

15

16

17

18

19

20

21

22

23

24

25

26

27

28

29

30

Jul

1

2

3

4

5

6

7

8

9

10

11

12

13

14

15

16

17

18

19

20

21

22

23

24

25

26

27

28

29

30

31
Key: Red = booked, Green = available
Make an Enquiry: