Property Details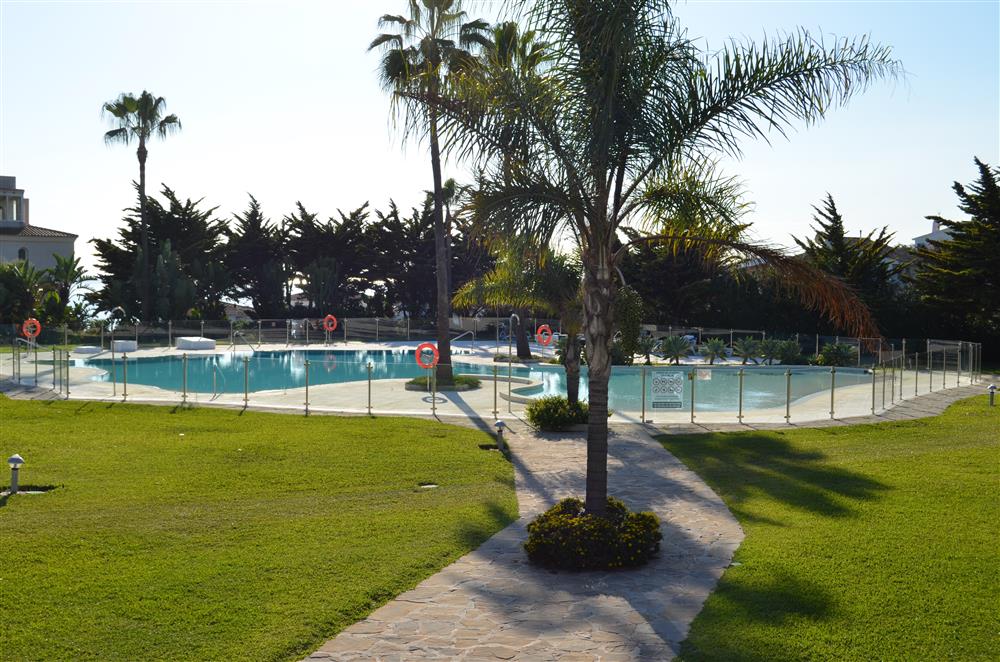 Description
this lovely first floor 2 bedroom 2 bathroom apartment is located on the edge of El Faro, very close to La Cala de Mijas. It has a large terrace which overlooks the gardens and gives amazing unspoilt sea views. The terrace can be accessed from both the lounge and the master bedroom. The apartment has air conditioning (and heating) and TV giving access to British television and radio. There is a dvd player and stereo. The kitchen is new and well equipped. the master bedroom has a double bed and en-suite bathroom, there is also a twin bedroom with large shower room. The apartment is only suitable for 4 people. The apartment has an entry phone system and the community is gated for extra security. The owner has ensured that there is everything you could possibly need for an enjoyable stay. Linen and towels are changed weekly, only on 2 wk. stays.
The gardens are wonderful. There are two large infinity swimming pools and a jacuzzi, there are lifeguards at the pool during the summer holidays.
It is a short walk from local bars and shops and the beach is around 200 meters away
Property Photos
More Property Details
General Details
2 bedroom 2 bathroom apartment with lounge/dinning area. Terrace leading from the lounge and master bedroom with breath taking views of the Mediterranean sea. the complex has 2 swimming pools with the bonus of a jacuzzi pool.
A short walk from local bars shops and the beach is around 200 meters away
Bedrooms Details
good size master bedroom with double bed and 2nd bedroom has twin beds.
Bathrooms Details
1 shower room 1 bathroom en suite.
Living Area Details
lounge/ dining area
2 settees, coffee table and t.v.

Dining Room Details
dining area is part of the lounge. dining table and seating for 4 people.
Kitchen Details
well equipped kitchen with full oven, fridge/ freezer, dishwasher. Off the kitchen you have a utility room with washing machine.


Entertainment Available
t.v.
very close to local bars and shops.
only 200 metres away from beach.
10 minutes bus journey away from the town of Fuengirola where you can find a water park, a zoo and shopping center.
Outside Details
The community area is well maintained and has 2 very large swimming pools with
life guards in the opening hours of the pool areas.
Other Details
if your holiday is 2 wks included in the rental price is a mid holiday change of linen beds and towels.
please note no beach towels included.
Rates
| | | | |
| --- | --- | --- | --- |
| Date From | Date To | Price (euros) | Price (pounds) |
| 01/03/2016 | 31/05/2016 | 440 € | £ 0 |
| 01/06/2016 | 30/06/2016 | 550 € | £ 0 |
| 01/07/2016 | 31/08/2016 | 680 € | £ 0 |
| 01/09/2016 | 31/10/2016 | 540 € | £ 0 |
| 01/10/2016 | 31/10/2016 | 520 € | £ 0 |
| 01/11/2019 | 29/02/2020 | 440 € | £ 0 |
Availability Calendar
2020
S
M
T
W
T
F
S
S
M
T
W
T
F
S
S
M
T
W
T
F
S
S
M
T
W
T
F
S
S
M
T
W
T
F
S
Aug

1

2

3

4

5

6

7

8

9

10

11

12

13

14

15

16

17

18

19

20

21

22

23

24

25

26

27

28

29

30

31

Sep

1

2

3

4

5

6

7

8

9

10

11

12

13

14

15

16

17

18

19

20

21

22

23

24

25

26

27

28

29

30

Oct

1

2

3

4

5

6

7

8

9

10

11

12

13

14

15

16

17

18

19

20

21

22

23

24

25

26

27

28

29

30

31

Nov

1

2

3

4

5

6

7

8

9

10

11

12

13

14

15

16

17

18

19

20

21

22

23

24

25

26

27

28

29

30

Dec

1

2

3

4

5

6

7

8

9

10

11

12

13

14

15

16

17

18

19

20

21

22

23

24

25

26

27

28

29

30

31
2021
S
M
T
W
T
F
S
S
M
T
W
T
F
S
S
M
T
W
T
F
S
S
M
T
W
T
F
S
S
M
T
W
T
F
S
Jan

1

2

3

4

5

6

7

8

9

10

11

12

13

14

15

16

17

18

19

20

21

22

23

24

25

26

27

28

29

30

31

Feb

1

2

3

4

5

6

7

8

9

10

11

12

13

14

15

16

17

18

19

20

21

22

23

24

25

26

27

28

Mar

1

2

3

4

5

6

7

8

9

10

11

12

13

14

15

16

17

18

19

20

21

22

23

24

25

26

27

28

29

30

31

Apr

1

2

3

4

5

6

7

8

9

10

11

12

13

14

15

16

17

18

19

20

21

22

23

24

25

26

27

28

29

30

May

1

2

3

4

5

6

7

8

9

10

11

12

13

14

15

16

17

18

19

20

21

22

23

24

25

26

27

28

29

30

31

Jun

1

2

3

4

5

6

7

8

9

10

11

12

13

14

15

16

17

18

19

20

21

22

23

24

25

26

27

28

29

30

Jul

1

2

3

4

5

6

7

8

9

10

11

12

13

14

15

16

17

18

19

20

21

22

23

24

25

26

27

28

29

30

31
Key: Red = booked, Green = available
Make an Enquiry: