Property Details
Town House to rent La Cala de Mijas Add to Favourites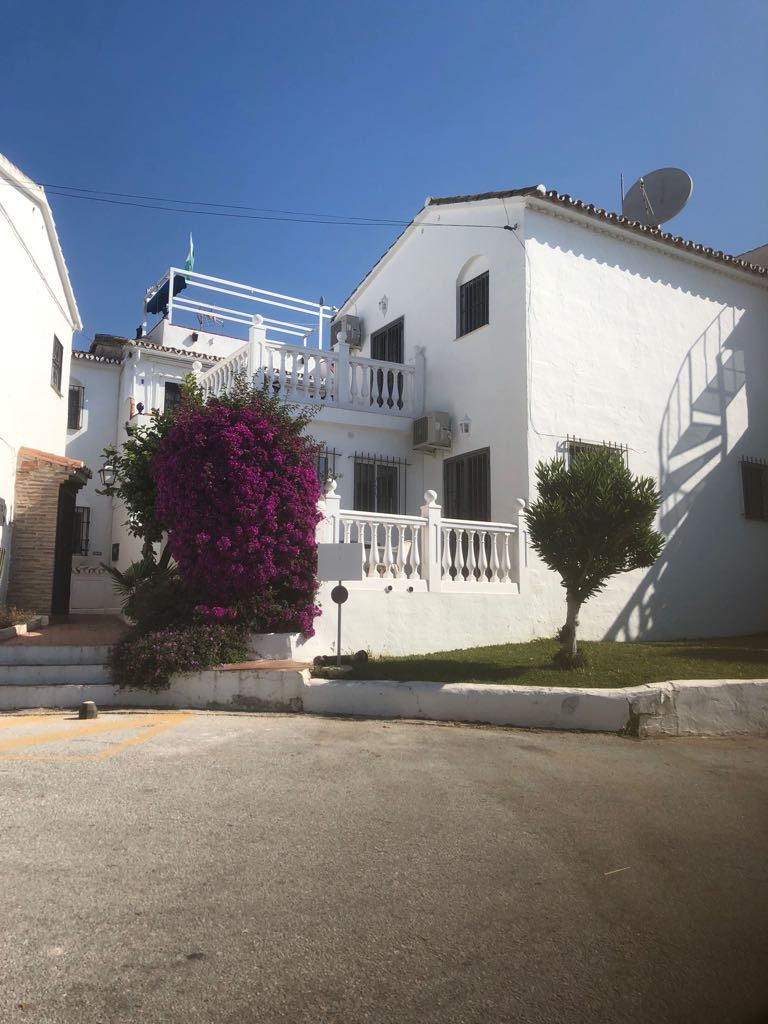 Description
This newly renovated 2 bedroomed property situated in la cortijera
FREE WiFi with Uk t.v.
La Cortijera is a small, traditional urbanisation on the edge of La Cala de Mijas, There are sea views from the patio and you can be on the beach in less than 5 minutes!

The gardens on the urbanization are colourful and green as a result of good regular maintenance, and within easy walking distance there are several bars and restaurants, offering good value-for-money food and drinks There is a nice gated community swimming pool with a toddler pool and gardens

If you care to walk into La Cala, the choice of restaurants and bars becomes almost unlimited. Also in the town are plenty of shops offering anything you could wish for including a twice weekly market.

The Costa del Sol has a superb all year round climate, and is packed with attractions and sporting facilities. There are dozens of high quality golf courses within easy reach, and all water s
Property Photos
More Property Details
General Details
this newly renovated townhouse close to la cala de mijas.
with sea views and free fibre optics internet connection
Bedrooms Details
two good sized bedrooms with singles beds.
Bathrooms Details
shower room.
Living Area Details
good size living room leading on to patio.
Dining Room Details
living/ dinning
Kitchen Details
newly fitted kitchen with washing machine and full oven and hob.
Entertainment Available
FREE fibre optics internet.
Outside Details
patio and a balcony off master bedroom
Other Details
linen is provided and on 2wk stays the maid will call to change the linen and clean the bathroom this service is included in the rental price.
Please note you will need to bring beach/pool towels thank you.
Rates
| | | | |
| --- | --- | --- | --- |
| Date From | Date To | Price (euros) | Price (pounds) |
| 01/09/2020 | 30/09/2020 | 560 € | £ 0 |
| 01/10/2020 | 31/10/2020 | 440 € | £ 0 |
| 01/11/2020 | 31/12/2020 | 399 € | £ 0 |
| 01/01/2021 | 31/03/2021 | 399 € | £ 0 |
| 01/04/2021 | 31/05/2021 | 504 € | £ 0 |
| 01/06/2021 | 30/06/2021 | 560 € | £ 0 |
| 01/07/2021 | 31/08/2021 | 650 € | £ 0 |
| 01/09/2021 | 31/10/2021 | 560 € | £ 0 |
Availability Calendar
2020
S
M
T
W
T
F
S
S
M
T
W
T
F
S
S
M
T
W
T
F
S
S
M
T
W
T
F
S
S
M
T
W
T
F
S
Jul

1

2

3

4

5

6

7

8

9

10

11

12

13

14

15

16

17

18

19

20

21

22

23

24

25

26

27

28

29

30

31

Aug

1

2

3

4

5

6

7

8

9

10

11

12

13

14

15

16

17

18

19

20

21

22

23

24

25

26

27

28

29

30

31

Sep

1

2

3

4

5

6

7

8

9

10

11

12

13

14

15

16

17

18

19

20

21

22

23

24

25

26

27

28

29

30

Oct

1

2

3

4

5

6

7

8

9

10

11

12

13

14

15

16

17

18

19

20

21

22

23

24

25

26

27

28

29

30

31

Nov

1

2

3

4

5

6

7

8

9

10

11

12

13

14

15

16

17

18

19

20

21

22

23

24

25

26

27

28

29

30

Dec

1

2

3

4

5

6

7

8

9

10

11

12

13

14

15

16

17

18

19

20

21

22

23

24

25

26

27

28

29

30

31
2021
S
M
T
W
T
F
S
S
M
T
W
T
F
S
S
M
T
W
T
F
S
S
M
T
W
T
F
S
S
M
T
W
T
F
S
Jan

1

2

3

4

5

6

7

8

9

10

11

12

13

14

15

16

17

18

19

20

21

22

23

24

25

26

27

28

29

30

31

Feb

1

2

3

4

5

6

7

8

9

10

11

12

13

14

15

16

17

18

19

20

21

22

23

24

25

26

27

28

Mar

1

2

3

4

5

6

7

8

9

10

11

12

13

14

15

16

17

18

19

20

21

22

23

24

25

26

27

28

29

30

31

Apr

1

2

3

4

5

6

7

8

9

10

11

12

13

14

15

16

17

18

19

20

21

22

23

24

25

26

27

28

29

30

May

1

2

3

4

5

6

7

8

9

10

11

12

13

14

15

16

17

18

19

20

21

22

23

24

25

26

27

28

29

30

31

Jun

1

2

3

4

5

6

7

8

9

10

11

12

13

14

15

16

17

18

19

20

21

22

23

24

25

26

27

28

29

30
Key: Red = booked, Green = available
Make an Enquiry: